( ENG )
Espiral
is a sculpture designed in 2021 as part of the interactive installation interface created for
Paisaje Sonoro
, an ongoing performative series that generates a live soundscape through the biodata visualization system emitted from the plants temporarily inhabiting the installation.
The object is designed to guide the growth of the stem and roots of the plant, and therefore in constant transition and dialogue with its environment. By evoking elemental materials such as light, water, air and earth, the plants movement becomes part of the sculpture. creating a piece that evolves over time. It is the result of a previous investigation regarding plant-intelligence alongside Akyute.
The spiral shape symbolizes the life order, continuity, development and motion.
It was blown in glass by Ferran Collado, after having being designed in 3D in collaboration with Silvina Cortés, alluding a body of water.
This piece has previously exhibited in the following contexts:
Madrid Design Festival 2022, "Inteferences" Il.lacions, Madrid, ES
50a Premios de Artes Visuales, Subte, Montevideo, UY
MMMad x Las Cigarreras x Todo Bien 2021 "Paisaje Sonoro #6" Akyute, Alicante, ES
Neo Festival x Cosmo Caixa 2021 "Paisaje Sonoro #5" Akyute, Barcelona, ES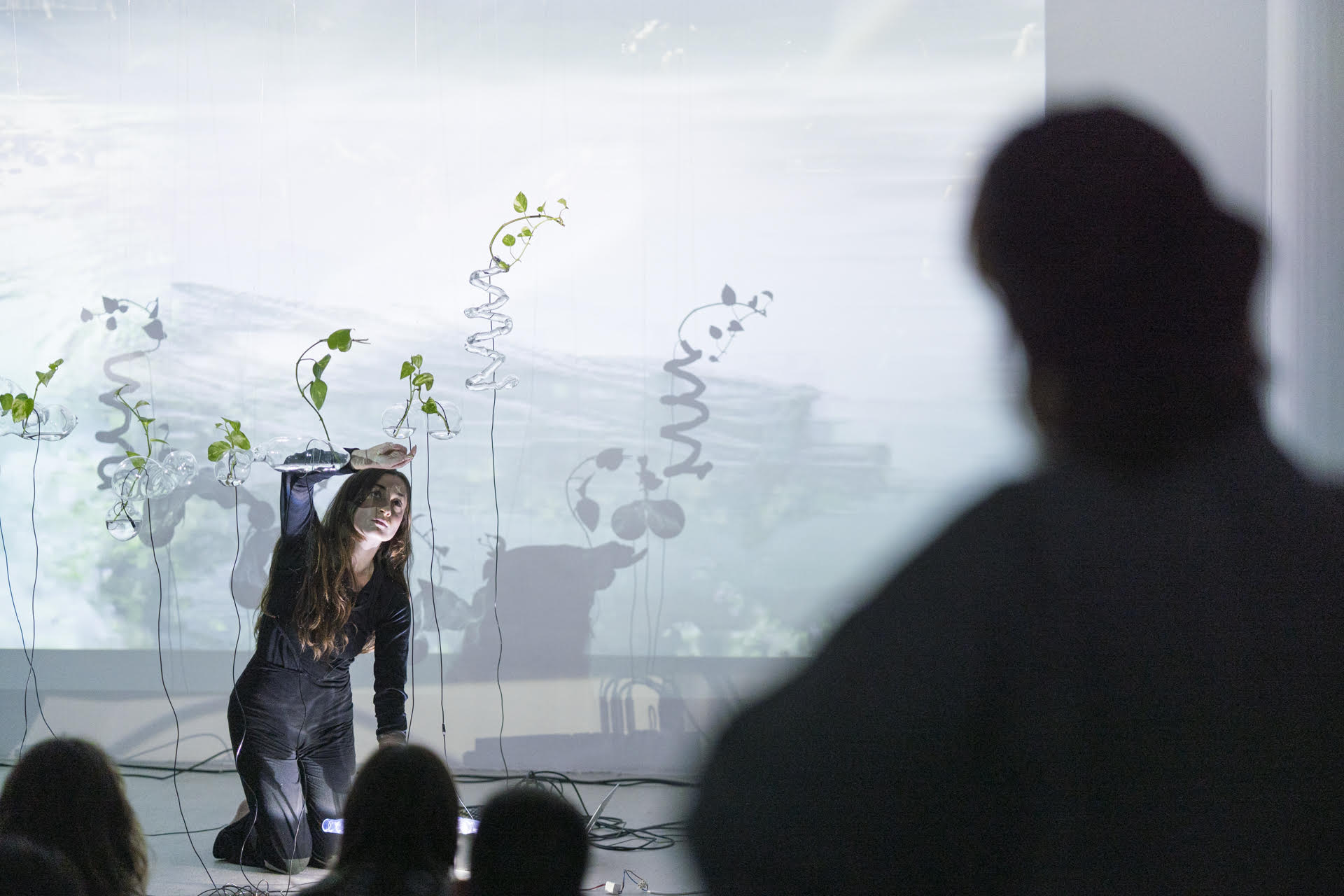 ( ES )
Espiral es una escultura que diseñé en 2021 como parte del interfaz de la instalación interactiva creada para
Paisaje Sonoro
, una serie de performances que genera un paisaje sonoro en vivo a través del sistema de visualización de biodats emitida por las plantas que habitan temporalmente la instalación.
El objeto fue diseñado para guiar al crecimiento del tallo y las raíces de la planta, y por lo tanto es una pieza que se encuentra en constante transición y diálogo con su entorno. Al evocar materiales elementales como la luz, agua, aire y tierra, permite que el movimiento de la propagación se vuelva parte de la escultura misma, creando una pieza que evoluciona con el tiempo. Es el resultado de una investigación previa sobre la inteligencia-vegetal junto a Akyute.
La forma de espiral simboliza el orden de la vida, la continuidad, el desarrollo y el movimiento.
Fue soplado en vidrio por Ferran Collado, luego de haber sido diseñado en 3D en colaboración con Silvina Cortés, aludiendo al cuerpo del agua.
Esta pieza está representada por
Il.lacions Design Gallery
y ha sido expuesta anteriormente en los siguientes lugares:
Madrid Design Festival 2022, "Inteferences" Il.lacions, Madrid, ES
50a Premios de Artes Visuales, Subte, Montevideo, UY
MMMad x Las Cigarreras x Todo Bien 2021 "Paisaje Sonoro #6" Akyute, Alicante, ES
Neo Festival x Cosmo Caixa 2021 "Paisaje Sonoro #5" Akyute, Barcelona, ES