La Memoria del Agua
Video-Art ( 2021 )

← take me back
Locations
2021: 10ax10s, MMMAD, Pantallas Clear Channel, Barcelona, ES
2021: Mira Festival, IDEAL, Barcelona, ES
2021: The Wrong Biennale, MMMAD, Barcelona, ES
( ENG )
See below for Spanish.
10s10a
is an urban digital art exhibition happening in Valencia (1–11 Nov), Barcelona (11–21 Nov) and online (1 Nov–1 Mar).
MMMAD Festival transforms Clear Channel's outdoor screens -leading outdoor advertising company- located at strategic public spaces into innovative cultural devices for the display of digital art. The exhibition consists of 10-second works by 20 emerging digital artists linked to the cities of Valencia and Barcelona.
Within
The Wrong Biennale,
all the artworks co-exist in a virtual 'public' space where visitors can interact with them and with each other
The exhibition was inaugurated on a 360 screen at Mira Festival at Ideal, Barcelona.
Alongside:
Artists Aka GuerriBCN·
AkyuteBCN
·Ana Piquer + Carlos GilVLC·c41582028BCN·Carlos SaezVLC·Clàudia del BarrioBCN·CruelaudiaBCN·Daniel BenzaBCN·Felina H.DBBCN·flanVLC·GalaVLC·JuseVLC·Marta VerdeVLC·Miguel MiraVLC·Miquel PérezVLC·Momu & No EsBCN·nuepsVLC·Paula García SansBCN·ShoegBCN·Simone GarcíaVLCCurators
Aida Salán, Cristóbal Baños and Diego Iglesias (MMMAD), with the collaboration of Ana Drucker (MIRA).
Prensa:
https://mmmad.art/Akyute
https://
www.timeout.es/barcelona/es/noticias/64-pantallas-de-barcelona-expondran-la-obra-de-10-artistas-digitales-emergentes-101921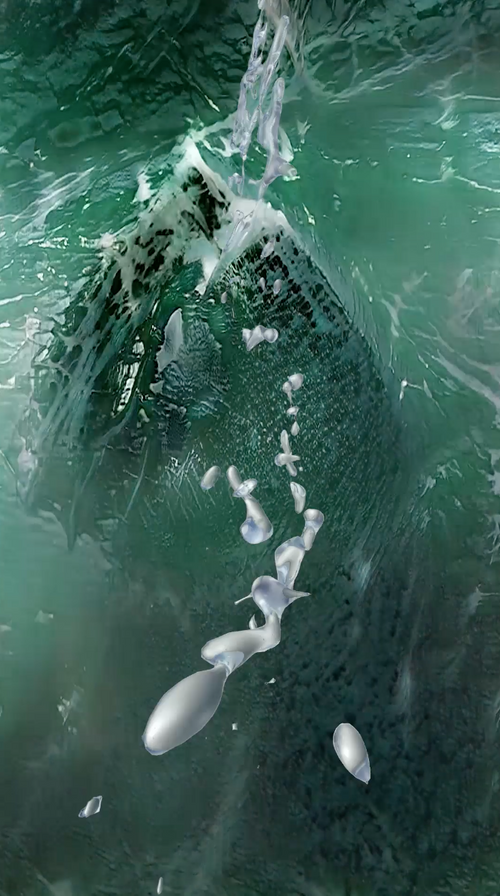 I created the graphics using Cinema 4D, RealFlow (Plugin), Processing and AI GAN. Later put together in Adobe Premier. The video has a total duration of 8 seg.

Here are some trials and errors of the process:


( ES )
www.10s10a.art
es una exposición de arte digital urbano que se celebra en Valencia (1-11 de noviembre), Barcelona (11-21 de noviembre) y online (1 de noviembre-1 de marzo).
MMMAD Festival transforma las pantallas exteriores de Clear Channel -empresa líder en publicidad exterior- situadas en espacios públicos estratégicos en innovadores dispositivos culturales para la exhibición de arte digital. La exposición consta de obras de 10 segundos de 20 artistas digitales emergentes vinculados a las ciudades de Valencia y Barcelona.
Dentro de The Wrong Biennale, todas las obras coexisten en un espacio virtual "público" donde los visitantes pueden interactuar con ellas y entre sí.
Visita la exposición en
www.10s10a.art
Artistas
Aka Guerri, Akyute, Ana Piquer + Carlos Gil, c41582028, Carlos Saez, Clàudia del Barrio, Cruelaudia, Daniel Benza, Felina H. DB, flan, Gala, Juse, Marta Verde, Miguel Mira, Miquel Pérez, Momu & No Es, nueps, Paula García Sans, Shoeg, Simone García
Comisarios
Aida Salán, Cristóbal Baños y Diego Iglesias (MMMAD), con la colaboración de Ana Drucker (MIRA).